StefanL, 13.01.13, 16:07
This ain't no fooling around No time for dancing, or lovey dovey, I ain't got time for that now
plink, nix, praise or blame!
StefanL, 06.05.12, 14:18
plink, nix, praise or blame!
MaryW, 04.07.11, 09:22
Assertion: The badest thing about love is that from the constitution of the civic individual it is alway greater then he or she.
Clarifications: He or she in a civic person means his or her ego-structure. Ego is used in the sense S. Freud used to use it. If it is not greater than the ego, be assured it is not love what the person feels and thinks but at most a kind of simulacron of it.
Illustration: This painful ratio and the complication it induces are the reasons why the civic individual in the 500 years of its existence had such eminent troubles with love, and especially love for a member of a different gender. The fact has been beautifully exemplified and explored in the best of novels, e.g. "Madame Bovary", "La Chartreuse de Parme", "Анна Каренина", "Wuthering Heights", "Le Ravissement de Lol V. Stein", "Доктор Живаго", "Die Marquise von O…" and other lesser works as well as so called love songs and love movies uncounted. As a nice example of the later genre we recommend 臥虎藏龍 (Wòhǔ Cánglóng), which you might know under the title of "Crouching Tiger, Hidden Dragon" and which of course is no Wuxia movie as wikipedia claims but a modern love movie by two of the today's masters of the dying art of narrating failed romances.
Consequences: If you are able to admit and enjoy love then you know you have already transgressed the world of civilization. On the other hand, if you insist on holding on to your maximum of civic independence of the ego, you cannot have arrived at love quite yet.
plink, 2 comments, praise or blame!
StefanL, 02.04.09, 10:08
It's definitely warming your crotch.
plink, nix, praise or blame!
StefanL, 20.03.06, 18:36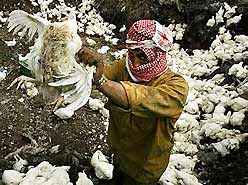 A Palestinian man holding one of the chickens imported from Israel that will be buried alive as a precaution against bird flu, near Hebron on Sunday.
Quelle: Haaretz
plink, nix, praise or blame!