StefanL, 16.06.06, 16:12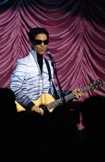 FPP (Former Popstar Prince) got a webby award for his lifetime achievements. Played acoustic guitar too.
Award winners had to hold 5 word speeches. Amongst the slightly crampies from Bob Kahn, the Gorillaz, Tom Friedman and others his "Everything you think is true" seems to be slightly overphilosophical.
We did not look through all of them but still like to mention "I proposed, elizabeth said.. YES" and "In your face, my space" as standing out.

last updated: 05.04.22, 07:16



Youre not logged in ...
Login
Februar 2023
So.
Mo.
Di.
Mi.
Do.
Fr.
Sa.
1
2
3
4
5
6
7
8
9
10
11
12
13
14
15
16
17
18
19
20
21
22
23
24
25
26
27
28
April