StefanL, 17.02.06, 17:35
who went from Iceland to N.Y.C. and on to Santa Fe is an electronic artist from the seventies to now who often uses a violin as an intuitive interface to a complex set of different sources, mixers, routers, screens and software. Laurie Anderson popularized her work for a while but never became quite as good as Steina in terms of sophistication.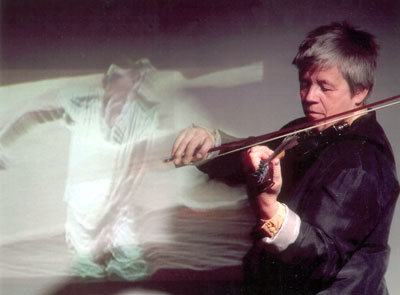 Her <a href="
husband Woody an engineer from Brno who mutated into an artist and art theoretican in NYC has always been a bit dry 'n' digital pure in his practical work but of course is a much greater guru than Steina in your intellectual digital art circles. Their performance and video theater "The Kitchen" was legendary.
Steina's a very nice person too, which I know as I got to know her a bit in one of Weibel's early HAK workshops (in early '84 I think, a spinoff from the Vasulka's AE invitation, if i'm not wrong) on "digital art". Steina was nice and helpful with everybody and Woody played the bad theoretic cop, a concept that nearly went amiss when had to really really hold back from not bashing Weibel during the prescreening of the latter's "electronic media opera" (magna) Der künstliche Wille which was a nice try in some ways but rather embarrassingly provincial if watched through Woody's international theoretic "made in nyc" glasses.
Gudrun Bielz, Ruth Schnell and Karl Kowanz were there too. Gudrun and Ruth showed a beta version of Plüschlove and other stuff done with HAK's cheapo equipment (low band umatics and C=64s) which Woody heavily and Steina constructivly critizied after Woody had left the room in a fit.
Steina and Woody still live and work in Santa Fe (New Mexico). I have not seen that city yet, but Hanuman lived there for nearly a year and tells me she liked it.

last updated: 24.11.21, 20:49



Youre not logged in ...
Login
Dezember 2021
So.
Mo.
Di.
Mi.
Do.
Fr.
Sa.
1
2
3
4
5
6
7
8
9
10
11
12
13
14
15
16
17
18
19
20
21
22
23
24
25
26
27
28
29
30
31
Oktober