StefanL, 20.02.06, 19:35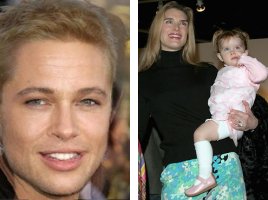 handbag.com ist eine site, die mit innovativen mitteln erforscht, wie gut die Kinder berühmter Menschen dann aussehen werden.
And now to something not so completely different:
Handbag.com hat auch eine Galerie mit dem Titel "Who is pregnant?" Nicht "7 of 9" sondern "3 of 18" ist da Brooke Shields (40).
We already know "she is pregnant with her second daughter." The news are said "to be cause for celebration for the Chicago actress who has spoken out about wanting a sibling for her two-year-old daughter Rowan, but had worried she may not be able to conceive a second time". Brooke is colported to have "said in a recent television interview: 'I don't want her to be the only one dealing with me when she's older'."
Wise considerations, Brooke, enjoy!

last updated: 24.11.21, 20:49



Youre not logged in ...
Login
Dezember 2021
So.
Mo.
Di.
Mi.
Do.
Fr.
Sa.
1
2
3
4
5
6
7
8
9
10
11
12
13
14
15
16
17
18
19
20
21
22
23
24
25
26
27
28
29
30
31
Oktober