StefanL, 19.01.06 06:46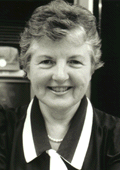 Fran Allen has made outstanding contributions to the field of programming languages for almost forty years, and her work has significantly influenced the wider computer science community.
Here is her entry at WITI (Women In Technology International) and there is text about her at IBM Research.
A historic presentation by her on the "partnership" of processors and compilers can be found there.
Her entry at the Computer History Museum says, she has developed several programming languages that have advanced the fields of computer science and optimization compiling. She helped create one of the first automatic debugging systems and, as a member of the Stretch/HARVEST project, developed an advanced code-breaking language known as Alpha. Vow!
Worked with Lynn Conway in the IBM ACS project.
On Jan 15 06 NWY (not wikipediaed yet).
Update: Fran Allen now has wikipedia entries in Cesky
Deutsch, Español, Français, Ivrit, Norsk (bokmål) and ???. Of course.