StefanL, 10.03.06, 00:49
On January 26th when this photograph appeared, this was the gesture the world had been waiting for, the first official holding of hands in a public airport by the couple (we cover regularly). What could be more romantic than a walk through Heathrow airport with a security escort.
Aols TMZ dug that from a B&A photograph.
But now, ignorance and rowing?
And now while everybody still remembers fondly how Brad and Angie pleased at the World Economic Forum in fashionable San Murezzan there seams to be a row in the house. For the National Ledger tells us that the National Enquirer tells them that while Angie gets collapses from her mother Marcheline Bertrand ailing along her 1st bodily child xxx Jolie starts to be kicking along, Brad was brutal enough to meet Patsy Kensit first but had not enough but went to N.Y. on "business" for another extended period of 48 hours.
Not one row, two!
Angelina Jolie does not like to be left alone in Europe. Reports from last month detailed that Brad Pitt spent some time in the doghouse right after the couple arrived in Europe for their extended stay for meeting with British actress Patsy Kensit. And that report said Pitt was only away for a few hours.
Now there is another report that claims an Angie and Brad row as the hunky actor left his pregnant girlfriend alone in France at what is described as the worst possible time by The National Enquirer.
Mostly from a hint by Tom and via Dana's Dirt plink, nix, praise or blame!

StefanL, 20.02.06, 19:35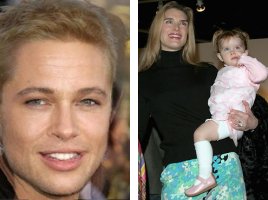 handbag.com ist eine site, die mit innovativen mitteln erforscht, wie gut die Kinder berühmter Menschen dann aussehen werden.
And now to something not so completely different:
Handbag.com hat auch eine Galerie mit dem Titel "Who is pregnant?" Nicht "7 of 9" sondern "3 of 18" ist da Brooke Shields (40).
We already know "she is pregnant with her second daughter." The news are said "to be cause for celebration for the Chicago actress who has spoken out about wanting a sibling for her two-year-old daughter Rowan, but had worried she may not be able to conceive a second time". Brooke is colported to have "said in a recent television interview: 'I don't want her to be the only one dealing with me when she's older'."
Wise considerations, Brooke, enjoy!
plink, nix, praise or blame!
StefanL, 14.02.06, 06:18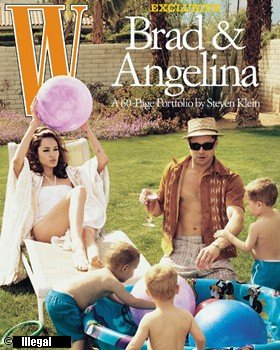 Photographer Steven Klein seems to have done an "exclusive" "Brad & Angelina Garden Life" 60p portfolio for the most exclusive of exclusives of large news agencies in the world.
koktail.pravda in our neighbor-CCTLD* ".sk" is not shy about presenting this content to their users. They have more on the topic, mostly by said american content syndicator. But since this site here covers those sweeties too, we cannot withhold a link to this very nice headline of theirs.
ANTS-CD: The Web 2.0 million dollar page.
I'm off to Geneva now. This site here might go from tiny to zero for some days. Do not forget me, please.
* Country Code Top Level Domain
plink, only 1 comment, praise or blame!
StefanL, 10.02.06, 20:20
I'm thinking about who could have done this arrangement of looking. Their 2005 movie misterandmissus was extremely weak stuff though.
ANTS-CD: Endlich! plink, nix, praise or blame!

StefanL, 24.01.06, 08:43
The Winner is: Angelina Jolie.
Not only did she search and find a littler sister for little Maddox, she also took in Sad Brad and did that although Jenifer had not even released him for adoption.
plink, 4 comments, praise or blame!